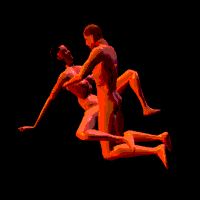 Ardent young men, when you enter your mistress's yoni with your lingam, beware of spilling. By acting so grossly, you would leave her hungry for more. There are many ways in which a lingam shall behave with a yoni. Study your lover's reactions, read the look in her eyes. Because of her shyness, an inexperienced woman will not dare to express her desires. When you are in this situation, do not content yourself with merely pushing on. Any donkey can do that. Learn to break through by strikies the upper part of the yoni, then by rubbing the lower part. Try the blow of a bull, the blow of a boar. Then you will see your lover, putting aside all bashfulness, cry out, lose her head and direct the love congress in the growing rhythm of her pleasure.

If long lovemaking exhausts you
before your lover has reached her orgasm,
you should allow her
to roll you over your back
and sit astride you, taking initiative.

If the posture gives her deep pleasure,
or you enjoy its novelty,
she may transpose into it as a matter of course,
taking great care, however,
not to expel the linga from the temple of love.

Consider: she climbs upon you,
the flowers dropping from her tousled hair,
her giggles turning to gasps;
every time she bends to kiss your lips
her nipples pierce your chest.

As her hips begin to churn,
her head, flung back, bobs ever faster;
she scratches, pummels you with small fists,
fastens her teeth in your neck,
doing unto you what you've often done unto her.
Contents

Main Page

Lying down positions:
Preludes
Indrani
Churning
Mixture
Yawning
Cobra
Conch
Pestle

Sitting positions:
Black bee
Mare
Swing
Bamboo
Knot
Spare
Tigress
Sharpening

Rear-entry positions:
Inversion
Elephant
Dog

Standing positions:
Knee elbow
Stag
Tripod

Oral pleasures:
Lovemaking of the crow

Exotic positions:
Apadravyas
Unified lovers