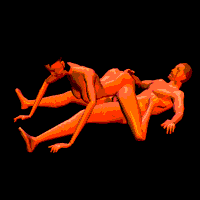 The women of Maharashtra adore every kind ot pleasure. The beautiful wife does not contradict this reputation. And, until dawn, she demands more from her husband. The poor man falls asleep... Never mind, she gives him a few betel leaves to chew, plies him with sweets, with fresh coconut milk. He can relax and she will take care of him. The husband lets himself drift. She rubs his body with a sandalwood unguent. Soon, the massages turn into caresses. The beauty excites his chest. He comes to and she mounts him. He would like to kiss her mouth but the naughty girl shies away, turns around, offering him her back. It is she who decides. She possesses him. Delicious submission.

She lies on her front,
grasping her ankles in her own hands
and pulling them up behind her:
this difficult posture is known to experts
as Mallaka (the Wrestler).

She stands on palms and feet;
you stand behind her
and lift one of her feet to your shoulder,
enjoying the lovely girl:
this is Traivikrama (the Stride).

Seize her feet and lift them high
(like a wheel barrow),
drive your penis into her yoni
and pleasure her with vigorous strokes:
this is Kulisha (the Thunderbolt).

You kneel, as in archery,
take her on your lap
and bend her forward till her breasts
are pressed to her thighs:
this is Ekabandha (One Knot).
Contents

Main Page

Lying down positions:
Preludes
Indrani
Churning
Mixture
Yawning
Cobra
Conch
Pestle

Sitting positions:
Black bee
Mare
Swing
Bamboo
Knot
Spare
Tigress
Sharpening

Rear-entry positions:
Inversion
Elephant
Dog

Standing positions:
Knee elbow
Stag
Tripod

Oral pleasures:
Lovemaking of the crow

Exotic positions:
Apadravyas
Unified lovers