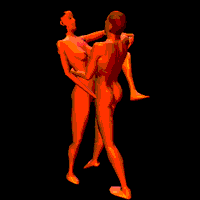 The beautiful stranger has asked to visit the temple. And here she is, red with confusion, facing the friezes. On the walls all around her, human and divine creatures, with serene faces, make love in every fashion. Her guide, a handsome doe-eyed boy, shows her a small woman kissing the lingam of a man with the face of Buddha. She smiles dreamily. Takinlg her by the hand, the guide leads her into the temple's mazes. Here no one will disturb them. In an instant, they are as naked as the stone lovers. The tiles worn away by time do not make a welcoming bed! One of the beauty's legs rests on the young man's hip, he is going to love her while standing. She discovers unsuspected delights in this balanced love position.

When your lover draws up one leg,
allowing the heel
to nestle just behind your knee,
and you make love, embracing her forcefully,
it is Traivikrama (the Stride).

If you catch one of her knees
firmly in your hand
and stand making love with her
while her hands explore and caress your body,
it is Tripadam (the Tripod).

If she raises one leg
and you catch hold of her little foot,
caressing her breasts
and telling her how much you love her,
it is Ekapada (One Foot).

Her foot pressed to your heart,
your arms encircling and supporting her,
lean back against the wall
and enjoy the lovely girl:
this is Veshta (the Encircling).
Contents

Main Page

Lying down positions:
Preludes
Indrani
Churning
Mixture
Yawning
Cobra
Conch
Pestle

Sitting positions:
Black bee
Mare
Swing
Bamboo
Knot
Spare
Tigress
Sharpening

Rear-entry positions:
Inversion
Elephant
Dog

Standing positions:
Knee elbow
Stag
Tripod

Oral pleasures:
Lovemaking of the crow

Exotic positions:
Apadravyas
Unified lovers